-Premium battery cells that last over 4000 cycles.
-The next-level Group 27 battery for a seamless upgrade.
-A reliable BMS system with dual-processors.
-Auto-balancing for improved charging efficiency.
-Works with the BT-2 Bluetooth module for real-time monitoring.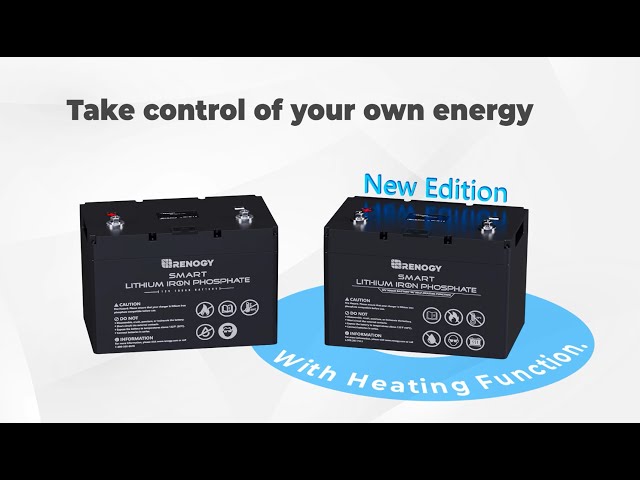 Ultra-safe Battery for Off-Grid Living
Renogy 12V 100Ah Smart Lithium Iron Phosphate Battery
Unprecedented Safety Design
Designed with safety in mind for a reliable charging experience.
Stable, Long-lasting Performance
The 12V 100Ah Smart Lithium Iron Phosphate Battery can go through over 4000 cycles with an 80% depth of discharge (DOD).
Every Nuance & Details Matter
Strictly tested and certified to provide peace of mind and confidence.
Up to Ten Years' Lifespan
As a pioneer in energy solutions for over 12 years, Renogy fuses expertise with professional services into every product delivered worldwide.
Save Every Drop of Power
Losing power on the go is painful. This 12V 100Ah Smart LiFePO4 Battery can provide lasting power for you with a smart ON/OFF switch and hibernation mode wherever the road leads you.
Monitoring via Bluetooth
You can use the BT-2 Bluetooth module to monitor multiple battery status in real time with the DC Home app.
At-a-Glance Monitoring
You can connect the battery monitor directly via CAT cable without purchasing an additional coulometer.
Save up to 15% Space
High-density pouch cells and improved cable structure ensure battery quality and a smaller battery volume.
Bundle up for Power Independence
Wire up batteries seamlessly to expand usable power for RVs, cabins, houses, boats, and more off-grid living spaces you call home.
Planet-Friendly Power
Keep your appliances & devices powered while also caring for the environment with our eco-friendly batteries.
Learn more
Connect with Renogy customers.
Go to Power Plus Community
Still have questions?
Ask our specialist
Package Includes
12V 100Ah Smart Lithium Iron Phosphate Battery

1 x

Activation switch and bolts

1 x
1. What are Renogy battery's greatest advantages?
Firstly, our batteries use the most up to date pouch cell technology. Currently, there are a few battery brands on the market using pre-used battery cores, these have a negative impact on the battery's life span and present safety risks. In addition, Renogy batteries feature, self-heating functions, an auto-balancing system and an advanced and efficient BMS system. Finally, we provide a 5 year industry leading warranty on all Renogy batteries.
2. What is the specific soft package cell mentioned just now?
Soft package cell refers to the use of aluminum-plastic film as the packaging material of the cell. At present, the vast majority of lithium-ion batteries on the market still use metal shell cells. Compared with the metal shell of the same capacity, the soft pack battery is light in weight and has good cycling performance. When safety problems occur, gas and heat can be released through the sealing mouth to avoid the further triggering reaction. Steel and aluminum cells have the possibility of explosion.
3. What does the external battery switch do?
Our battery is connected with a battery switch, which can turn off the battery and the BMS system with one key when the battery is not needed to work, reducing the self-consumption of the battery, making it safer to store, and protecting the battery life.
4. How long will your battery last?
Our battery is capable of 4000 cycles of perfect charge and discharge, after which the efficiency of the battery will drop to 80% of the factory performance, but it is still very good for your use. If you live a completely off-grid life, calculated at the rate of a full charge and discharge per day, you will be able to use it for more than 10 years.
5. How many batteries can I connect to at most?
Please connect your batteries in parallel, we recommand a maximum of 4 batteries in parallel, and our automatic battery balancing system allows you to achieve parallel safely.
6. How to keep a Lithium-iron Phosphate battery healthy at low temperatures?
A Lithium-iron Phosphate battery will not charge and enters a low-temperature protection stage if the charging environment is below 32°F(0°C ). If you buy this Renogy Lithium-iron Phosphate battery without a self-heating function, please pay attention to timely charging it at the appropriate temperature to prevent the battery from overdischarging. Safe charging requires battery temperatures between 32°F and 131°F (0°C and 55°C). By minimizing exposure to conditions that accelerate degradation, Lithium-iron Phosphate batteries can last longer.
7. What do I need know to connect multiple batteries in parallel?
When you design to connect multiple batteries in parallel, please keep the length of ALL cables consistent (from the positive end to the negative end). Battery cables (sold separately) should be appropriately sized to handle the expected load. Keep the connection tight by using the appropriate number of washers to allow for as much as possible thread engagement between the terminal, cable lugs, and busbars, without bottoming out the terminal bolt. And it is best to use flexible busbars or dedicated cables to connect batteries together.
Note: DO NOT connect batteries in series. DO NOT connect batteries with different chemistries.
9. What should I do when I receive the battery?
When you receive your battery, please be aware that it may have a low State of Charge (SOC) due to the transportation and storage process. To ensure its optimal performance, we recommend charging the battery right away to avoid over-discharge.
If you plan to store the battery for an extended period without usage, we suggest charging it to a SOC of 30% to 50% and performing maintenance every three months. These steps will help maintain its functionality and performance over time.